Start Registration : 10 February 2023
Abstract and Poster Presentation Guidelines
All poster presenters will be notified of the poster number and date of presentation. Author must be ready at his/her poster during the designated date and time.
| | | | |
| --- | --- | --- | --- |
| Set-Up | Viewing | Presentation | Dismantling |

27 Nov 2023

7.00 AM – 12.30 PM

28-30 Nov 2023

7.30 AM – 4.30 PM

28 Nov 2023

1.20 PM – 2.20 PM

30 Nov 2023

4.30 PM – 6.00 PM
Poster Specification and Layout
Size Specifications:
1. Available poster area: 85 cm (width) x 120 cm (height) [approximately A0 size]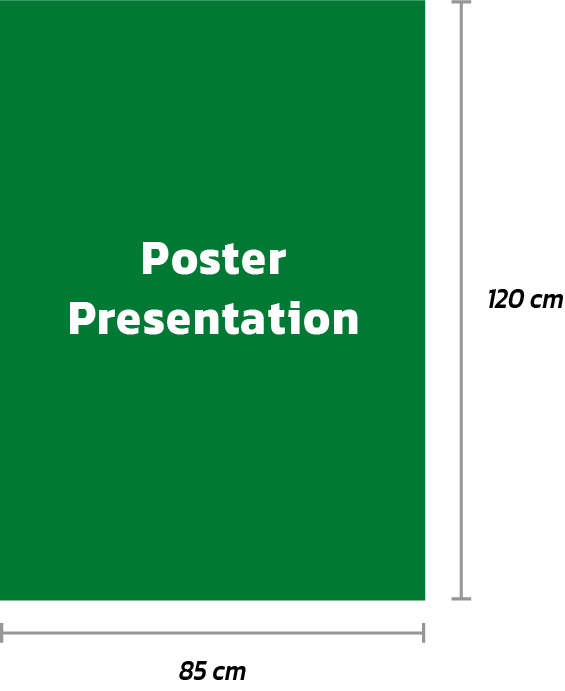 Remarks
Posters above the maximum size may not be able to display properly.
Posters using A4 or A3-paper size are not recommended.
Set-up Poster Presentation
Posters are scheduled in TBA. A standard bulletin board will be provided. Background of the poster board is simply in white. It is your responsibility to prepare push pins, tape, or other means of attaching your poster information to the poster board. Please contact AMV 2023 staff in poster area for further assistance.
Additional Guidance Notes for Poster Presentation
Please note that the official conference language is English. All presentations must be made in English.
The title should be emphasized using bold-face type. When printed, the letters should not be smaller than 15 mm and the sub-title should be printed in the same format of lettering, but semi-bold and not less than 10 mm high. This guarantees clear reading even from a distance of 2-3 meters.
Text sections should be broken up by the inclusion of drawings and/or photos and or graphs of data, simply keep text to minimum. Bullet points and phrases are more effective than complete sentences.
Charts, drawings, and illustrations should be similar to those you would use for slide presentations, but more heavily drawn. Remember to keep illustrated and written material simple.
All illustrations should be made up beforehand. Remember that your illustrations must be legible from a distance of at least 3 to 5 feet.
The use of color makes a poster more attractive and effective.
Display of commercial/product sales posters is prohibited. Any poster that is deemed to be a commercial advertisement will be removed from the poster hall.
Specification for poster printing
Size 85 cm (width) and 120 cm (height), vertically displayed.
File must be only in .pdf or .jpg format.
Resolution must be at least 300 dpi.