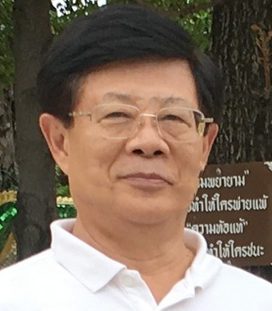 Dr. Chusak Prasittisuk 
Former, Coordinator Communicable Diseases Control, WHO South East Asia Regional Office
---
Dr. Chusak Prasittisuk, PhD, serves as a Faculty Advisor in the Faculty of Tropical Medicine at
Mahidol University, Thailand, and holds the position of Advisor at the Ministry of Public Health,
Thailand, specializing in Malaria Elimination. His extensive career spans from 1984 to the present
day, during which he has engaged in entomological research and vector control. His contributions
encompass the development of policies, guidelines, standard operating procedures, and standards,
as well as the monitoring of insecticide resistance and reporting on vector control activities.
Additionally, Dr. Prasittisuk has served as a member of the Pesticide Regulation Board for Public
Health and has been involved in FDA reviews of insecticides and insecticide products for public health
purposes. From 1995 to 2010, he worked as a coordinator, collaborating with WHOPES on product
development and field evaluation, as well as the TDR program, which focused on research related to
product development and field evaluation of tools and new products for vector control. He has
authored over 50 publications in the fields of malaria, dengue, and other vector-borne diseases, along
with field trials of insecticides.